For some time now I've been comparing my usual search queries using this Google vs Bing tool, and the frank truth is that for a lot of the things that I search for, Bing gives me more accurate results that are more relevant to me than Google. This is likely only to improve when Wolfram Alpha is incorporated into Bing, but even now I can't deny that Bing is the best default search engine for many of my queries.
But I haven't switched, and I won't. Google is still my default home page in every browser I use. There's one simple reason for it– my online behaviours have become so enmeshed with Google that any sort of divorce is quite simply not an option. So what serves as the ball-and-chain? iGoogle and Google Apps, which have become products that drive me continually back to Google's economic engine: Search.
Many years ago I began using Google Apps as a matter of curiosity and convenience. It started with Gmail, and some time later followed with Google Reader, Google Maps, Google Calendar, and Google Docs. Now I have become so dependent on all of them that they effectively act as an impetus to continue to use good old iGoogle as my home page, even if better search results are out there to be had. Giving up easy and immediate access to my all-important iGoogle + Google Gadget-based Apps dashboard is simply unfathomable. The plain truth is that I am no longer simply a regular user of Google Search but rather a hooked user of the Google Platform, of which Search is only a part, and for me to give up my dependency on the platform would be a huge task.
The introduction of social features into Google products only tightened their grip on me. With the arrival of Google Talk/Chat in 2005 I was suddenly able to interact with my Gmail contacts in the immediate form of instant messages. Google almost overnight took on characteristics of a social network, and I found myself with yet another compelling reason to have Gmail and hence Google itself open on my desktop at all times. Even the fact that Google Talk uses open protocols and that I could use any XMPP client with it is not enough to dissuade me. And midway through last year Google introduced social features into Reader. The nefarious Google Grip tightened fruther. Social features tend to make products especially sticky for the simple reason that everyone wants to be where their friends are, and the cost of switching tends to be high (e.g. building up a whole new network of contacts in a new product).
Two things are set to draw my relationship with Google even closer. One is the emergence of Android. I have avoided adopting an Android handset for the same reason that I have in past shunned the iPhone: poor feature set. But this is set to change this year. Android will finally see handsets with good quality cameras, zippy processors and all the other high-end features we've come to expect. And because of Android's fantastic integration with Google apps, these new devices will only serve to further the Google platform's importance and dominance.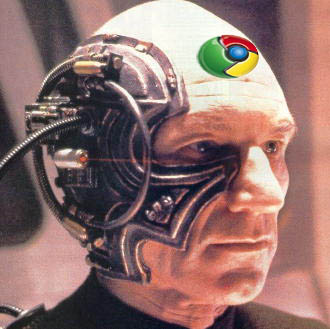 The other, of course, is the coming of Chrome OS. As Google Apps already acts as a sort of social and professional productivity platform, an operating system that supports and increasingly intregrates the products of the platform makes perfect sense, and yet will further indenture us to Google. Then, like the hive mind stretching its tentacles into the consciousnesses of all its Borg followers, so too will Google's reach extend out to all of us via our mobile and desktop operating systems, with Search at its core.
So even if Google Search isn't the stand-out it once was, ultimately Google and me look set to be partners for the longhaul. iGoogle & Google Apps have effectively bound me to using Google Search. Google's operating systems will cement this relationship further. If Bing could match the ease and convenience of iGoogle + Google Apps with similar products, then they'd still have the enormous barriers of social software change to overcome. You're fighting a tough battle, Microsoft.