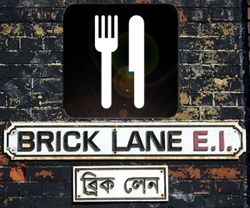 Here it is– my 6 favourite restaurants in East London, saving the best for last. Why 6? Only for the simple reason that I couldn't seem to narrow it down to just 5.
I love Mexican food and over the past few years many Mexican joints have opened in London, whereas there were very few when I first arrived 7 years ago. I've tried pretty much all the Mexican places in the east-end and this is definitely the best, a cut above Red & Green or Loco Mojito. The emphasis is on street food and sharing plates, with most of the plates being small and coming in at the £3 or £4 mark. It is certainly possible to have a very cheap meal and a lot of fun here! The decor is lively and colourful, definitely not the Mexican kitsch common at many other places.
Albion is all about simple, honest British cooking. The menu is not exotic and some might say a little bland, but the quality of ingredients is great and the food is very well prepared. The restaurant itself is also quite handsome. Stools at the counter are topped by red metal tractor seats. Tea comes served in teapots adorned by wool tea cosies. Coffee comes in tall, handsome metal pots. Service can be patchy and seems to be constantly changing, but I love this place all the same. It's a regular work-day hangout for me.
This resto offers a great pan-European menu and operates out of a very cool converted warehouse space. The menu offers a selection of dishes from across Europe, some simple, some a little more racy, and all very delicious. Bistrotheque also has a separate bar and a small cabaret space, and the shows tend to be highly entertaining. Bookings are sometimes necessary for the shows and remember that groups, hen parties and anything of that ilk and strictly barred.
The best South Asian food in London. This Pakistani-run joint has been on the scene for decades and has an extremely loyal following. The food is a world away from the tripe available on Brick Lane, but Tayyabs is only a 5 minute walk down the street! Tayyabs is best known for it's grilled meats but I also love the curries. My favourite dishes are their delicious saag paneer, fish tikka, daal gosht and chicken karahi. Samosas are one sour note– not recommended. I get a take-away meal from here at least once a week.
If you believe TimeOut, this is the best steakhouse in London and I certainly agree.. it's a far cry better than Gaucho despite many in London raving about the Argentinian steakhouse stalwart. Hawksmoor serves only beef from British Longhorn cattle and the cuts are massive, ranging from around 800 grams up into kilos. Don't worry, there's also a 300 gram fillet on at £30 if that's more to your taste. Cocktails are also delicious here– my favourite is the cinnamon old fashioned. Booking are essential and call at least a month in advance for a weekend reservation.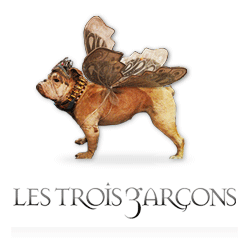 My favourite East End restaurant has got to be Les Trois Garcons. When you're in the mood for a spot of fine dining, this is definitely the place to hit in the East End. Run by the same 3 boys who own LoungeLover, this place features some seriously eclectic decor and a very creative French menu. Dozens of handbags hang from the ceiling while bust of deer and other game sport earrings and necklaces on the walls. Service is attentive, if a bit formal. All of this comes at a price so Les Trois is best saved for when feeling flush, though if you eat Monday – Wednesday they do a good Prix Fixe menu at a reasonable price.
Honourable mention: Sundays @ Truman Brewery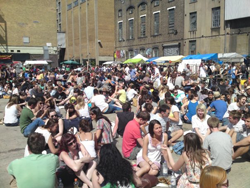 One of the most fun experiences to be had in the east end is hanging out in the parking lot behind the Truman Brewery on sunny summer Sundays. During the warmer months, picnic benches are set out for use by, well, anyone. If the benches are full, the crowds improvise by sitting on the astroturf thrown down everywhere. People tend to congregate, drink and eat all day long from these benches and it is always a riot, with music playing and a constant stream of interesting characters parading through. As for the food! Well there are about a million stalls to choose from, ranging from Japanese to Brazilian to Moroccan. It's not exactly fine dining, but the atmosphere and great selection of food certainly make it worth a trip.
I should also point out that I haven't yet been to Nuno Mendes new joint, Viajante, but I suspect this place could knock Les Trois off the top spot!