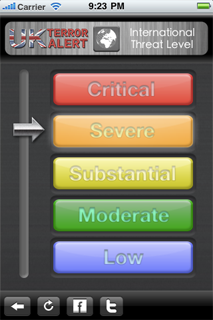 The latest app from raaza, UK Terror Alert, has just gone live in the iPhone App Store. This is another Ruby-on-Rails backed app that feeds data sourced from the UK Home Office and the MI5 Secret Service into native app format. This was the first time I've used Apple push notifications in an iOS app and it was a bit of a trying process getting an APN server up and running on top of RoR.
As for the basics, with UK Terror Alert you can:
see the latest alert levels for international and Ireland-related terrorism
receive push notifications whenever the alert levels change
view a history of all alert level changes
get practical advice on how to mitigate the effects of terrorism
share this info on Facebook and Twitter.
For more info, visit the website:
http://www.ukterroralert.com