I've been on a mission of sorts this past week– to eat every lunch at the much-vaunted Hawksmoor restaurant here in London. This is definitely the best place in town to eat meat and I usually have one lunch a week at the Seven Dials restaurant, however what started with a simple Hawksmoor burger for one on Monday subsequently erupted into an orgy of meaty over-indulgence throughout the rest of the week. Here I chronicle the experience.
Monday – Hawksmoor Burger, English Lettuce & Herb Salad
What more is there to say about the Hawksmoor burger that hasn't been said? I think it's the best burger in town, even showing up the quality burgers at MeatLiquor, Lucky Chip and Burger & Lobster. I take my Hawksmoor burger pink and smothered in stilton. As usual, it was incredibly moist, juicy and utterly delicious. The radiant sheen of the semi-glazed bun makes its a wonder to marvel at. The English lettuce & herb salad provided the perfect light accompaniment, and a good way to balance the heaviness of the burger. I washed all this down with the ever-tasty apple & mint swizzle.
Tuesday – Lobster Roll, Devilled Broccoli, Macaroni Cheese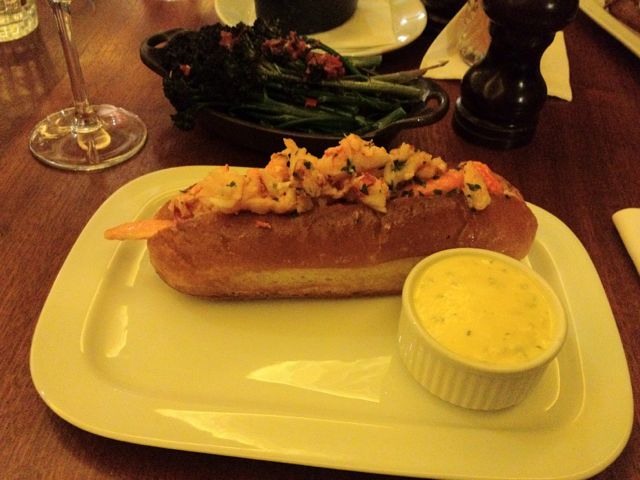 My friend Steph joined me on Tuesday and we sat in the main restaurant, where we guzzled some of Hawksmoor's quality cocktails before well and truly gorging ourselves. I was drinking a Shipwreck Sour, frothing with egg white. As soon as it arrived, I inhaled the lobster roll, which was truly outstanding. It consists of an entire lobster served in a brioche bun with hazelnut butter. YUM. The chilli in the broccoli provides a welcome bite, and the macaroni cheese, served in the metal container it was cooked in, was just the right kind of comfort food, if a little heavy for lunch.
Wednesday – Meatballs and Grits, Spring Greens and Goats curd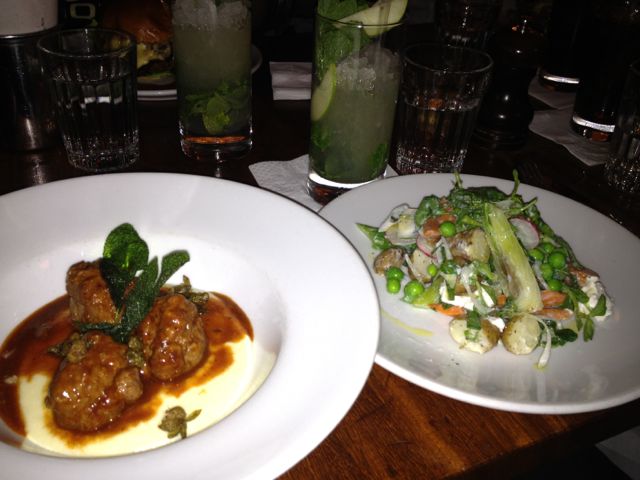 I thought I'd try a couple starters on Wednesday. The meatballs were tender and morish, really impressive. The grits were a bit too fine for my liking and had the consistency of mashed potato. Slightly disappointing. I must admit that the spring greens didn't do much for me either, and the salad was pretty heavy considering it included carrots and potatoes. But I suppose Hawksmoor was never known for salads!
I took a few people from work who ordered both the triple cooked chips and beef dripping chips, providing a welcome opportunity to compare them side by side. The beef dripping chips are shorter and fatter than the triple cooked variety and the beef flavour is pronounced, but the lovely texture of the triple cooked chips mean that they win it for me.
All this I washed down with another apple and mint swizzle.
Thursday – Chili Cheese Dog, Sweet Potato, Devilled Broccoli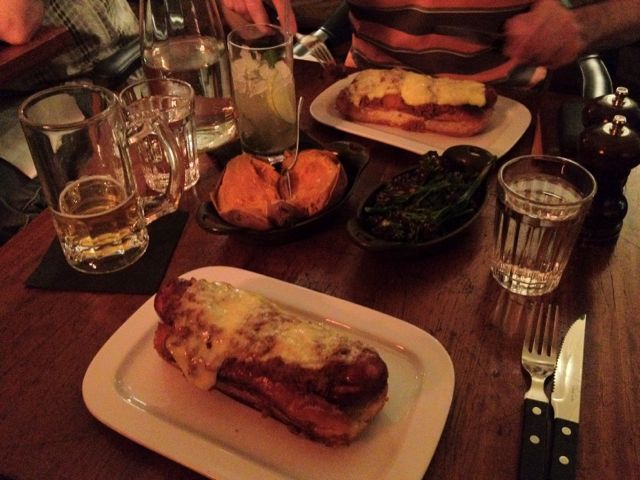 By now word had got out that I was on some sort mad, meaty escapade, and so Barry got in touch to see if I was available for lunch that day. Back to Hawksmoor? It would have been rude not to! And so on Thursday I returned to an old favourite, the chili cheese dog. It's one seriously delicious, own-made wiener smothered in quality chili and Ogleshield cheese. What a sight to behold. We also tried the Sweet potato for the first time, which was velvety smooth and extremely toothsome. I knocked back this awesome lunch with a Meantime lager.
Friday – Doddington Caesar Salad, Rib-eye Steak, Triple Cooked Chips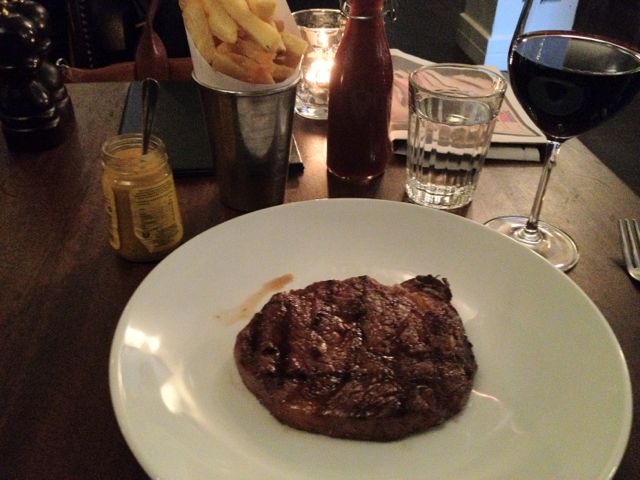 I wasn't able to get into the Spitalfields restaurant for lunch, and so I starved myself and returned at 5PM as soon as they opened for dinner. I thought it only fitting to go out with a bang, and so a proper steak it was. I started with the Doddington Caesar, which was simple and delicious. The Doddington cheese made a refreshing change from the more common parmesan, and the occasional salty bite of anchovy made a good contrast against the other flavours of the salad. Afterwards it was on to the steak! This is what Hawksmoor truly excels at, cooking their meat in a fashion and at temperatures simply not achievable in my lowly kitchen at home. It came servered medium-rare, and every mouthful was truly a pleasure. It seemed almost rude to add the occassional dab of mustard to my fork! This quality of meat needs no further seasoning.. lovely!
And so thus concluded my meaty marathon of over-indulgence. It was a very tasty week, but I think I'll be laying off the heavy food for a while.